Personal Growth
Building Toward Your Goals
We tend to spend a lot of time envisioning what we want, but we don't always take the time to create a detailed plan to achieve our goals.
Our multi-discipline services provide you with a personalized and collaborative approach. Regardless of the complexity of your needs, we offer professional services that include portfolio management, estate and trust planning, tax planning, and philanthropy.
Let our advisors help you get there.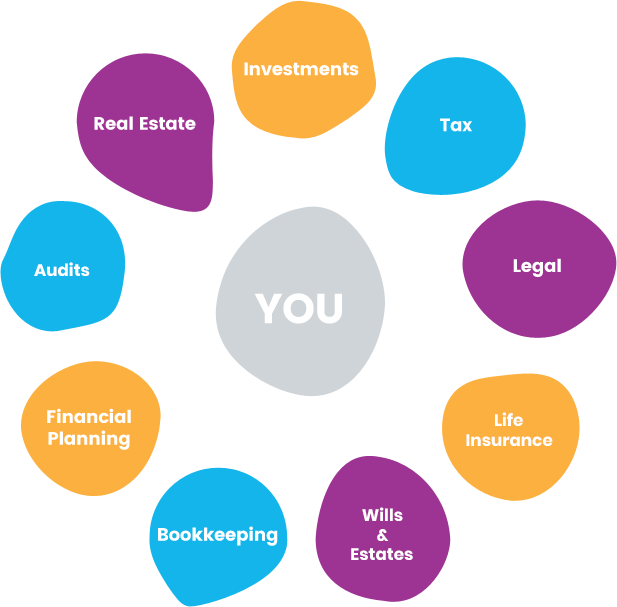 Personal accounting can be as simple as a yearly tax return, but for many there are other considerations, like:
CRA adjustments
Disability tax credits
Saving for your child(ren)'s education
Tax planning for your family
Our accountants keep up to date on the latest tax incentives and keep you informed so that, together, the best decisions can be made.
Whether buying real estate or writing a will, our licensed lawyers will work through detailed questions that need to be asked to keep your best interests protected.
They also give honest, rational advice regarding risks, rewards, costs, and alternatives. Their purpose is to empower you with information to help you achieve your goals.
Our lawyers can help with:
Estate planning and administration
Real estate transactions
Trust planning and administration
Wills
Our certified wealth advisors provide guidance and advice about how you can best manage, protect, and grow your wealth. We'll customize a plan that best suits your journey to achieving your goals.
We can help you with:
Financial Planning
Insurance
Investments
We've been clients of Inclusive for years – both business & personal – and have had the pleasure of dealing with a number of their staff, all of which did exceptional jobs of making us feel welcome, informed, and supported. Thanks so much!

Schedule a meeting with an Inclusive Advisor